<  YUKI☆'s Profile  >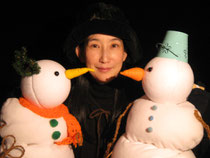 The opportunity when I fell in love with puppetry was to have joined the puppet show club at the time of a junior high school student.
I worked as produce and business (not a puppeteer) for a puppet theatre in Japan from 1994.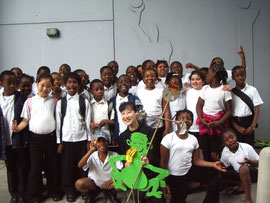 ◆ Puppetry in U.K ◆  
1999 - 2000
I have taken some courses of
London school of Puppetry.
2004 
Performance at
Little Angel Theatre
in London
Nov.2005 - May.2006 
  I've visited U.K under Overseas Study Programme for young 
  artists of The Agency for Cultural Affairs by Japanese
  Government.I had workshops and performances at kindergartens, 
  primary schools, a school for the handicapped and a university.  
PECKHAM SPLASH 2006 (June - July)
  Making a shadow show in a primary school for 3weeks
  and performed it at Queen Elizabeth Hall in London. 
Sep.2008 * Workshops
 Japanese Language work in Debshire 
  <Let's play Pape-sart!> at elementary schools.
 <Kanchil and a famer> by Shadow show at a juior higt school for 3days.
 Wayang Kulit 3days course as a lesson of London School of Puppetry.
Oct.2008 * Performances
 at Rosemary Branch Theatre in London for 2 weeks.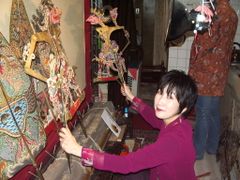 ◆ Wayang Kulit ◆
I have started to train for
Wayang Kulit at JAPAN
WAYANG SOCIETY in 2000.
The leader of JAPAN WAYANG
SOCIETY is Mr.RYO Matsumoto
who is researching about Wayang
over 40 years and he was 
conferred culture order of merit
on in 1998 by the Indonesian
President. He is a Japanese but very famous in the world of
Wayang Kulit performance in Indonesia.
 2002-2012
 I participate in an 8hours all-night Wayan performance 
 once a year in Tokyo.
 2005・2006・2009
 I've participated in the international wayang festivals held in
 Yogyakaruta and the Palace of SOLO in Indonesia as a member
 of JAPAN WAYANG SOCIETY.
 Wayang Kulit ・・・ Traditional Javanese Shadow show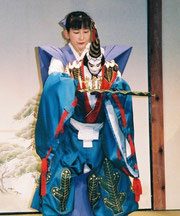 ◆ OTOME BUNRAKU ◆
I have started to train for
   OTOME BUNRAKU
(One kind of Bunraku / a female
puppeteer operates a Bunraku
puppet) at a FOUNDATION of
MODERN PUPPET CENTRE in 2005.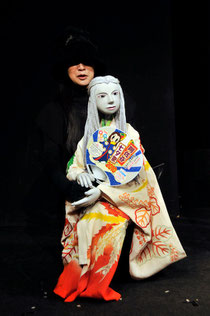 ◆ Making Puppetry Performances ◆ 
2009
  <KiKi-Forest>
* The red candles and the mermaid
* The Lady in Macbeth
 <P*CLAPS>
* Snow Story 
It is 
2010 
<KiKi-Forest>
* A Picture Book without Pictures
* Princess Hazy Moonlit Night
    from The Tale of Genji
<P*CLAPS>
* The Three Billy Goats Gruff
<COU・COU>
* A walk and whistle ~ feeling of comfortably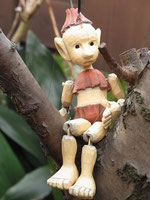 2012
<PP☆Theatre (Theatre for ONE)>
 *  " It's SECRET! "
 * " A Winter Story "
 <Cirque Lumiere ~ Planetarium Ver.>
* Runnig after shooting stars
2013
<PP☆Theatre (Theatre for ONE)>
* " L-O-V-E "
* " Thunder ☆ Song "
PP☆THEATRE (Theatre for ONE) 2012~2019
The Official programme for 15 countries 25 festivals.
Nominated 5 International competitions and won five awards.
Copyright © Theatre☆PUPPETERIA 2011-2019 All Rights Reserved.